Cheesy Bacon Ranch Seasoning or Cheesy Bacon Ranch Dip Mix
$5.00
This Cheesy Bacon Ranch Dip tastes as good as it sounds! This mix is a kids' first choice, but definitely a party pleaser for any age.
Add into mashed potatoes, noodles or hamburger meat. Cheesy Bacon Ranch Mix is great sprinkled on chicken, French fries, pork chops, steaks, or make a crowd pleasing cheese-ball.
No MSG, No Sugar Added, No Gluten, Non-GMO
Sampling of Recipes that are on the back of Cheesy Bacon Ranch Seasoning packages:
CHEESY BACON RANCH DIP MIX: 1 package Cheesy Bacon Ranch Seasoning, 1 1/3 cup sour cream (or Buttermilk) 2/3 cup Mayonnaise (NOT Salad Dressing) Mix and Chill 2-4 hours or overnight.
CHEESY BACON RANCH CHEESE BALL: Combine 1 package of Cheesy Bacon Ranch Seasoning with 2 (8 ounce) packages cream cheese, form into a ball, coat with crushed crackers or nuts, and refrigerate until hardened.
CHEESY BACON RANCH SEASONING: Sprinkle on Hamburgers, Chicken, Roasts, Steaks, Popcorn, Pork Chops, Fish, French Fries, Eggs, Veggies, Potatoes, Soup, Rice and Pasta.
CHEESY BACON RANCH WARM DIP/FONDUE: Blend 1 package of Cheesy Bacon Ranch Seasoning with 1(8 ounce) package of softened cream cheese and 1 cup sour cream. Microwave for 45 seconds, stir, then heat an additional 30-60 seconds, stir and repeat until hot.
CHEESY BACON RANCH GOURMET BURGERS: In a bowl, sprinkle Cheesy Bacon Ranch Seasoning to taste over hamburger meat and mix well. Cover bowl and place in a refrigerator for at least two hours. Form into patties and cook.
CHEESY BACON RANCH BAKED FISH: Preheat oven to 350. Wet fish fillets with water and roll in Cheesy Bacon Ranch Seasoning. Place on greased cookie sheet or pan, drizzle with butter (and optional white wine) Bake until fish flakes easy with a fork
Cheesy Warm Crab or Chicken Dip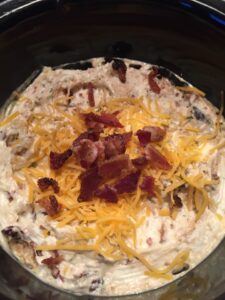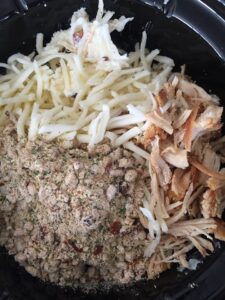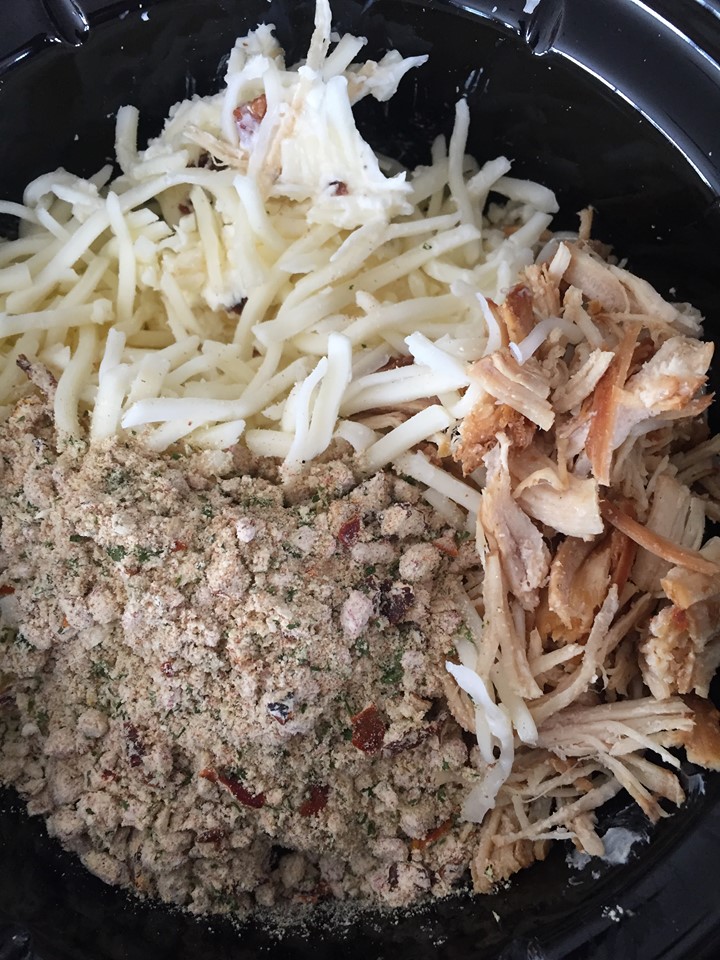 CHEESEY WARM CRAB or CHICKEN DIP: 
Blend 8 oz softened cream cheese, 1/2 cup mayonnaise, 1/2 -1 package of Starla's Seasoning Mix, 1 cup shredded cheese until well mixed. 
Place mixture into an oven safe 16 oz baking dish and bake in a preheated 400 degree oven for 20 minutes or Microwave until bubbly hot. 
Optional– Add 1 cup cooked shredded chicken, lump crabmeat or cooked ground meat. Enjoy with chips, sliced baguettes, nachos or vegetables.
Cheesy Bacon Ranch French Fries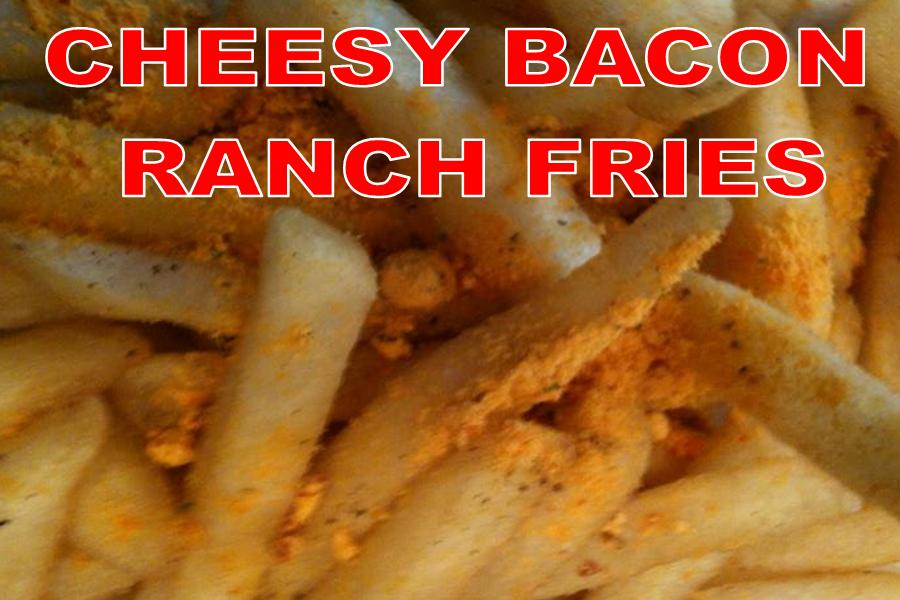 Sprinkle Cheesy Bacon Ranch Seasoning over hot French fries
Grandma's Mashed Potato Casserole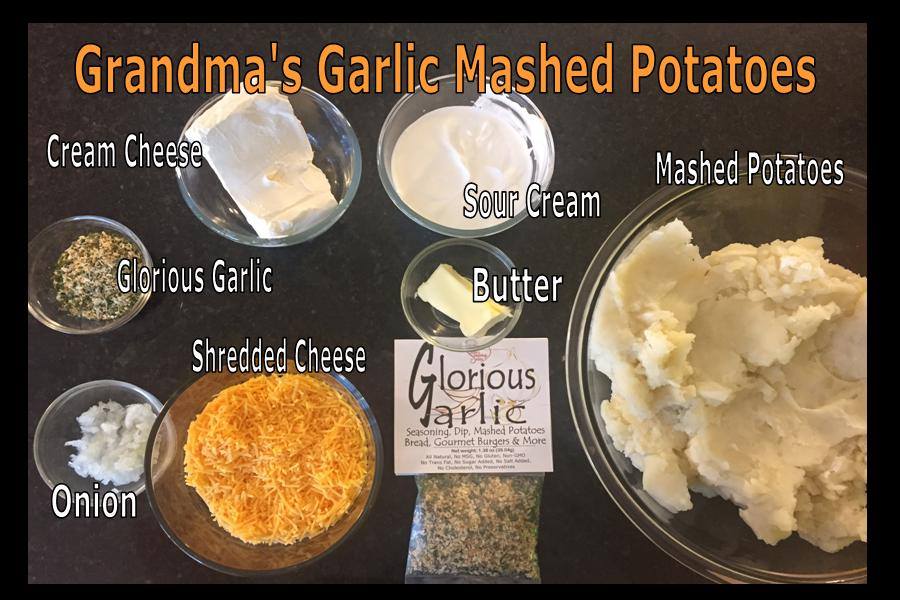 1/2 packet Starla's Seasoning Mix
8 cups prepared mashed potatoes
3 Tblsp. butter, softened
1 cup sour cream
2 cups shredded cheddar cheese
3 Tblsp. of Diced Onion (optional)
Preheat oven to 350°.
Grease bottom of 9×9-inch glass casserole dish.
Use 8 cups of real mashed potatoes.
Add Glorious Garlic Mix, butter, sour cream and 1-1/2 cups cheese, and onion.
Mix well.
Spread mixture into greased casserole dish.
Sprinkle remaining cheese over top and bake until bubbly and brown for approximately 20 minutes.
Pull-Apart Garlic Sourdough Bread
1 large round loaf sourdough bread
1/4 cup butter, melted
3-4 Tbsp. Glorious Garlic mix
Optional: 7 slices bacon, cooked crispy, crumbled or coarsely chopped
 1 1/2 cups sharp cheddar cheese, shredded 
Directions:
Preheat oven to 350°F. Place a long piece of aluminum foil across a baking sheet vertically then another horizontally, creating a large T.
Using a serrated knife, cut 1-inch slices being sure not to cut all the way through. Turn bread a quarter turn and cut 1-inch slices across the first slices, again not slicing through the bottom of the bread and forming a grid. Place the cut bread onto the center of the baking sheet.
In a large bowl, whisk together melted butter and Glorious Garlic Mix until well combined. Toss 2/3 of crumbled bacon, 1 cup cheddar cheese. Spoon the mixture into the cut portions of the bread. Wrap the bread loosely in the foil.
Bake in preheated oven for 30 minutes. Fold back foil to expose the top of the bread. Sprinkle with remaining bacon and cheddar cheese. Continue baking 10 minutes longer until cheese has melted. Serve immediately.
---
Vegetable Dip or Chip Dip
Combine 1 package of Starla's Seasoning Mix
1-1/3 cup sour cream (or buttermilk)
2/3 cup Mayonnaise (NOT salad dressing)
Mix and Chill 2 -4 hours or overnight
Serve with fresh veggies, crackers or chips. ENJOY!!!
---
Smoked Salmon Dip
 

---

Smoked Salmon Dip or Spread
1/4 pound (4 ounces) smoked salmon, minced
8 ounces cream cheese, softened
1/2 cup sour cream
1 tablespoon freshly squeezed lemon juice
3 tablespoon of your favorite Starla's Seasoning Mix
Salt and freshly ground black pepper

Cream the cream cheese with an electric mixer until smooth. Add the sour cream, lemon juice, Seasoning Mix, salt and pepper to taste. Add the smoked salmon and mix well. Chill and serve with crackers or as a sandwich spread
Easy Cheese Ball
Mix 1 package of Starla's Seasoning Mix with 16 oz. cream cheese
Refrigerate until hardened. Form into a ball and coat with crushed crackers, cheese or nuts.
---
Beer Dip
In a medium bowl, combine 2 (8 ounce) packages softened cream cheese, and 1/2 package of Starla's Seasoning Mix.
Stir in 2 cups shredded Cheddar cheese, and then 1/3 cup beer.
Cover bowl, and refrigerate for at least 3 hours, or overnight if possible.
---
BACON WRAPPED & STUFFED MUSHROOMS
BACON WRAPPED & STUFFED MUSHROOMS
Recipe: 1/2 package of Starla's Seasoning – Glorious Garlic, Peppercorn Ranch, Grandma's Garden or spice it up with Habanero, Mango Chipotle or Buffalo Wing Ranch
2 (8 ounce) packages cream cheese, softened
20 fresh mushrooms, stems removed
1 pound sliced bacon, cut in half
Preheat the oven to 350 degrees F
In a medium bowl, mix together Starla's Seasoning Mix and cream cheese. Stuff mushroom caps with the cheese mixture. Wrap each mushroom with a half-slice of bacon, and secure with toothpicks. Place on a baking sheet. Bake for 20 minutes in the preheated oven, until the bacon is cooked through. Makes 20 delicious appetizers
Twice Baked Potatoes
TWICE BAKED POTATOES
6 large baking potatoes               
½ cup real bacon crumbles
1 cup sour cream                        
½ cup milk
⅓ cup butter                                
½ package Cheesy Bacon Ranch, Peppercorn Ranch, BLT, or Glorious Garlic Seasoning
Salt & pepper to taste                 
1 cup shredded Cheddar cheese
8 green onions, sliced
Preheat grill to 350 degrees F. Place potatoes on grill and close lid. Grill for 1 hour or until a fork can easily slid into the potato. Remove from heat and let cool just until you can touch them comfortably. Cut them open lengthwise and remove the cooked potato flesh. Leave a ¼ inch of potato meat connected to the potato skin. In a mixing bowl, mix the potato flesh, sour cream, milk, Seasoning, butter, cheese, bacon crumbles and chopped green onions. Replace stuffing mixture into the potato skins. Grill with the lid closed for 15 – 30 minutes.
---
Cheesy Bacon Chicken Pasta
Ingredients for Cheesy Bacon Garlic Chicken Pasta:
8 ounces penne pasta
1 Tablespoon butter
1 Tbsp flour
2 Tbsp dry Starla's Seasoning Mix *
2 cups milk
1 cup shredded cheddar cheese
1/3 cup cooked, chopped bacon
2 cups cooked chopped chicken
*Optional ½ chopped cooked onion
Directions: In a large pot, cook pasta according to package directions. Drain and set aside. In same pot melt butter and the add flour and stir. Cook flour for 1 minute. Slowly whisk in milk. Continue cooking until sauce thickens. Stir in Glorious Garlic mix and cheese. Stir until cheese melts. Add chicken, bacon and pasta and optional onion. Stir until well blended. Enjoy!
* Also excellent made with Peppercorn Ranch, Salsa, or Habanero
---
Cheesy Bacon Breakfast Bread
3/4 lb bacon
1/2 cup chopped onion
2 (16 1/3 ounce) cans buttermilk biscuits
1/2 cup shredded cheddar cheese
1/2 cup chopped green pepper
3 Tbsp Glorious Garlic Seasoning or Cheesy Bacon Ranch
1/2 cup butter
Cook bacon until crisp. Drain and crumble. Sauté onions and peppers until tender. Cut each biscuit in half and place in bowl. Mix in peppers, onions, bacon, Glorious Garlic or Cheesy Bacon Ranch, cheese and butter.
Baking Option 1: Line Dutch oven with aluminum foil. Place everything in Dutch oven. Bake at 350 for 35 minutes or until done. Serve warm.
Baking Option 2 : Place in a greased tube pan. Bake at 350 for 28-32 minutes or until golden brown and no longer doughy in
center. Cool in pan 10 minutes. Turn upside down onto serving plate; pull apart to serve. Serve warm.
---
Deviled Eggs
1/2 packet Starla's Seasoning Mix
2 cups mayo
2 dozen eggs
1 Tablespoon mustard
Combine Starla's Seasoning Mix and mayo. Chill mixture for at least 4 hours. Boil 2 dozen eggs and let cool. Peel the eggs and cut in 1/2. Remove yolk and blend the yolk in with the Glorious Garlic Mixture. Refill the eggs with the completed mixture. Sprinkle with parsley flakes or paprika powder.
Seasoned Pretzels
In a large Zipper bag mix 3/4 cup oil and 1 package Starla's Seasoning Mix. Add 1 pound of pretzels and mix until pretzels are completely coated. Pour the pretzels onto 2 cookie sheets. Bake at 250° for 10-15 minutes or until golden brown, stir occasionally. Cool completely and store in an airtight container. 
*Make spicy pretzels by adding a package of Habanero!
---
Homemade Scalloped Potatoes & Ham
This dish is a crowd-pleaser with its creamy sauce, chunks of ham and
potato slices and a nice hint of garlic!
Ingredients:
•6 tablespoons butter, divided
•1/4 cup all-purpose flour
•1 teaspoon salt
•2 Tablespoons Starla's Seasoning Mix
•1/4 teaspoon pepper
•3 cups 2% milk
•6 cups thinly sliced peeled potatoes
•1-1/2 cups chopped fully cooked ham
•1 small onion, grated
Optional: 1/2 cup shredded cheese
• In a large saucepan, melt 4 tablespoons butter. Stir in flour, Glorious Garlic, salt, and pepper until smooth. Gradually add milk; bring to a boil, add cheese. Cook and stir for 2 minutes.
• Combine potatoes, ham and onion; place half in a greased 2-1/2-qt. baking dish. Top with half of the sauce; repeat layers.
• Cover and bake at 375° for 65-75 minutes or until potatoes are almost tender. Dot with remaining butter. Bake, uncovered, 15-20 minutes longer or until potatoes are tender.
---
Star Wars Cheese Ball
The Star Wars Storm Trooper Cheese ball I made for my brother's birthday party. It was easier than I thought it would be to do!
Directions: I mixed two 8 oz. bricks of cream cheese with one package of Glorious Starla's Seasoning Mix placed it in cling wrap so I could shape it without touching it. I finely grated some mozzarella, and covered the outside of the Trooper in the cheese. I sliced a few olives to accent the head, and I was done.
---
Chicken Cheese Ball
Super easy and cute chicky cheese ball. 
Place one 8 ounce brick of cream cheese with 1/2 package of Starla's Seasoning into a plastic bag. Mix in bag until well blended. Roll cheese ball into shredded cheese until evenly coated. Add an almond for a beak, raisins for eyes and red peppers for the comb.
Chicken cheese ball makes a cute addition to any Springy party.
See video below for how I made mine:
---
Loaded Hasselback Baked Potatoes
Large potatoes, baked 
Sliced ham
Cooked bacon slices 
Cheese slices
Butter 
Starla's Seasoning Mix– Glorious Garlic, Peppercorn Ranch, Citrus Dill, Parmesan Pesto, Cheesy Bacon Ranch, Greek Onion, Habanero, Nacho Mama
Slice baked potatoes without cutting all the way through the bottom. Between the cuts, stuff a slice of cheese, bacon and ham. Add small dabs of seasoned butter on top of each of the slices. -Salt & pepper to taste. Wrap potato in double layer of tin foil lightly sprayed with cooking spray. Place on a hot BBQ for 20+ minutes or until potato is hot and cheese, ham & bacon have melted together. Top with sour cream, green onions, more bacon.
Jody's Tortilla Roll Ups
1/2 packet of your choice Starla's Seasoning (Cheesy Bacon Ranch, Greek Onion, Grandma's Garden, Citrus Dill, BLT, Glorious Garlic, Parmesan Pesto)
1 8 oz. package cream  cheese, softened
1/4 cup real mayonnaise
1 package tortilla shells
Shredded cheese
Meat (ham, turkey, corned  beef, pastrami, etc.)
Black olives, diced (optional)
Onion, diced (optional)
Mix together cream cheese, mayonnaise and Dip Mix.
Spread mixture onto tortilla shells. Cover with your choice of meat topping, shredded cheese, onions  and black olives and roll. Refrigerate until firmly set, overnight is best. Slice into pinwheels. Serve.
Salad Dressing
Your Favorite Starla's Dip Mix
1 cup sour cream
1 cup mayonnaise (Do not use salad dressing such as Miracle Whip®, use real mayonnaise.)
Milk
Combine 1 packet of dip mix with 1 cup mayonnaise and 1 cup sour cream. Thin with milk to desired consistency. Mix well and chill overnight. Shake or stir before serving. You may use low fat or nonfat products with this mix, but your results may vary.
Seasoned Cottage Cheese
2 tbsp. Starla's Seasoning Mix
16 oz Cottage cheese.
Mix Seasoning Mix into cottage cheese until well blended.  You can add more mix if you want a stronger
flavor