Homemade Blueberry Pancakes
Homemade Blueberry Pancakes
1 cup Flour
1/2 tsp baking soda
1 tsp baking powder
1/2 tsp Salt                                                                     

3 Tbsp. Caramel Pumpkin or Cinnamon Apple Seasoning 
2 Tbsp Vegetable Oil
1 Tbsp Sugar
1 cup Milk
1 tsp Vinegar
1 Eggs                                                                             

1/2 cup blueberries
Directions:
Add vinegar to milk and let sit to make 'buttermilk'. Mix dry ingredients. Mix wet ingredients separately. When ready mix together until just mixed, but don't over mix.
Simple Donut Muffins
Super simple recipe to make easy muffins that taste like a donut!
Donut Muffins
1 1/3 cup flour
1 1/2 tsp. baking powder
1/2 tsp. salt
1/2 tsp. nutmeg
1 tsp. Cinnamon Apple Spice or Caramel Pumpkin Seasoning
1/3 cup oil
3/4 cup white sugar
1 egg
3/4 cup milk
Combine all dry ingredients; in a separate bowl mix all liquids together. Add liquid ingredients to dry ingredients and mix till just blended. Do not over mix. Spoon into muffin tins and bake at 350/F for 20-25 minutes
While muffins are hot, brush tops with melted butter and roll in Cinnamon Apple Spice or Caramel Pumpkin Seasoning Mix. 
---
Homemade Yogurt or Greek Yogurt
Homemade Yogurt or Greek Yogurt
 1 gallon of milk – 1%, 2% or whole milk
¼ cup of plain yogurt
Caramel Pumpkin or Cinnamon Apple Spice
Fresh Fruit & or Nuts…
 Reserve ¼ cup of milk, set aside. Pour remainder of gallon of milk into a large pot. Bring the milk to a boil, and then turn off the heat. Let milk cool until the temperature reaches 100 degrees. Remove the film on the top. While that is cooling, mix together ¼ cup of plain yogurt and the reserved ¼ cup milk. When milk reaches 100 degrees, mix in the yogurt/milk mixture. Mix it up gently and thoroughly, cover the pot with a lid. Wrap in a towel, and leave in your oven with the oven light on only. Leave it in oven overnight or 16 hours. After the time is up you magically have yogurt! If you stop right here and you have regular yogurt, or you can strain it further if you want Greek yogurt. Line a colander with a cheesecloth or flour sack towel. Pour mixture in to start draining it inside the colander. Every few hours either squeeze the towel or use a spoon to stir it to help it to drain faster. After about 6 hours you have nice thick Greek yogurt! Sprinkle on Caramel Pumpkin or Cinnamon Apple Spice Seasoning to sweeten and add fresh fruit and nuts. Enjoy! I save 1/4 cup from the first batch to start the next (continuous starter). Save money and know what is in your yogurt.
---
Seasoned French Toast
Just add a few tablespoons of Cinnamon Apple Spice, or Caramel Pumpkin Seasoning into your egg batter for a great new flavor to an old favorite.
---
Sweet Monkey Bread
This morning I made the most fabulous Caramel Pumpkin Monkey Bread.
CARAMEL PUMPKIN MONKEY BREAD:
1/2 cup granulated sugar
3 teaspoon Caramel Pumpkin Seasoning Mix
2 cans (16.3 oz each)  refrigerated buttermilk biscuits
1/2 cup chopped walnuts (optional) 
1/2  cup raisins (optional)
1 cup firmly packed brown sugar
3/4 cup butter or  margarine, melted
Heat oven to 350°F. Lightly grease 12-cup fluted tube  pan with butter or cooking spray. In large -storage plastic food
bag, mix  granulated sugar and Caramel Pumpkin Seasoning. Separate biscuits, and cut into  quarters. Shake biscuits in bag to coat.
Arrange in pan, adding optional walnuts and raisins among the biscuit pieces. In small bowl, mix brown sugar and melted butter, and
pour over biscuit pieces. Bake 28 to 32 minutes or until golden brown and no longer doughy in center. Cool in pan 10 minutes. Turn upside down onto serving plate, and pull apart to serve. Serve warm.
---
Homemade Blueberry Muffins
I will never buy another muffin mix for the rest of my life. I can not believe how easy and quick a muffin is to make!
Home-Made Blueberry Muffins
Recipe: Preheat oven to 400 degrees F. Grease muffin cups or line with muffin liners. Combine: 2 cups flour, 1/3 cup sugar, 1/2 teaspoon salt and 3 teaspoons baking powder. Add 1/2 cup vegetable oil, one egg and 3/4 milk. Mix this with flour mixture. Batter will be lumpy, DO NOT over stir. Fold in 1 cup of blueberries (I add more). Fill muffin cups right to the top, and sprinkle with Caramel Pumpkin or Cinnamon Apple Seasoning. Bake for 20 to 25 minutes in the preheated oven, or until done.
Easy Campfire Donuts
This morning I made super easy Caramel Pumpkin Donuts for my kids. I had some extra ambition, so I cut them in to star shapes with a cookie cutter. You could leave them whole, cut them in half, or make them into actual donut shapes.
CAMPFIRE DONUTS
1 can of buttermilk biscuits
vegetable oil for frying
1 package of Caramel Pumpkin, Cinnamon Apple Spice or Chocolate Java Seasoning 
Heat about two inches of oil in a large pot. Separate the biscuits on a cutting board and cut a hole from the center of each. A screw-cap from a bottle works perfect! Sprinkle the seasoning into a paper sack. Fry the biscuits in the oil, flipping them over with tongs when they are golden-brown. Once both sides are finished frying, let them drain on paper towels or a plate. Drop them in the bag and shake them up. Don't forget to fry the doughnut holes.
---
Grilled Spiced Peaches
This recipe is so sweet, juicy and easy to make. It tastes like peach cobbler without all the effort!
Directions: Cut peaches along the seam all the way around and twist halves off the pit. Brush
peaches with butter or vegetable oil. Sprinkle with Cinnamon Apple Spice or Caramel Pumpkin seasoning. Cook on a hot grill until fruit has grill marks, about 3 to 4 minutes. Turn over, and move to indirect heat. Cover grill and cook until fruit is tender, 10 to 15 minutes. Serve with vanilla ice cream or whipped topping.
---
Cheesy Bacon Breakfast Bread
3/4 lb bacon
1/2 cup chopped onion
2 (16 1/3 ounce) cans buttermilk biscuits
1/2 cup shredded cheddar cheese
1/2 cup chopped green pepper
3 Tbsp Glorious Garlic Seasoning or Cheesy Bacon Ranch
1/2 cup butter
Cook bacon until crisp. Drain and crumble. Sauté onions and peppers until tender. Cut each biscuit in half and place in bowl. Mix in peppers, onions, bacon, Glorious Garlic or Cheesy Bacon Ranch, cheese and butter.
Baking Option 1: Line Dutch oven with aluminum foil. Place everything in Dutch oven. Bake at 350 for 35 minutes or until done. Serve warm.
Baking Option 2 : Place in a greased tube pan. Bake at 350 for 28-32 minutes or until golden brown and no longer doughy in
center. Cool in pan 10 minutes. Turn upside down onto serving plate; pull apart to serve. Serve warm.
---
Flavored Cottage Cheese
2 tbsp. Your favorite Starla's Seasoning Mix
16 oz Cottage cheese.
Mix Seasoning Mix to taste into cottage cheese until well blended.  You can add more mix if you want a stronger
flavor.
Stuffed French Toast Roll Ups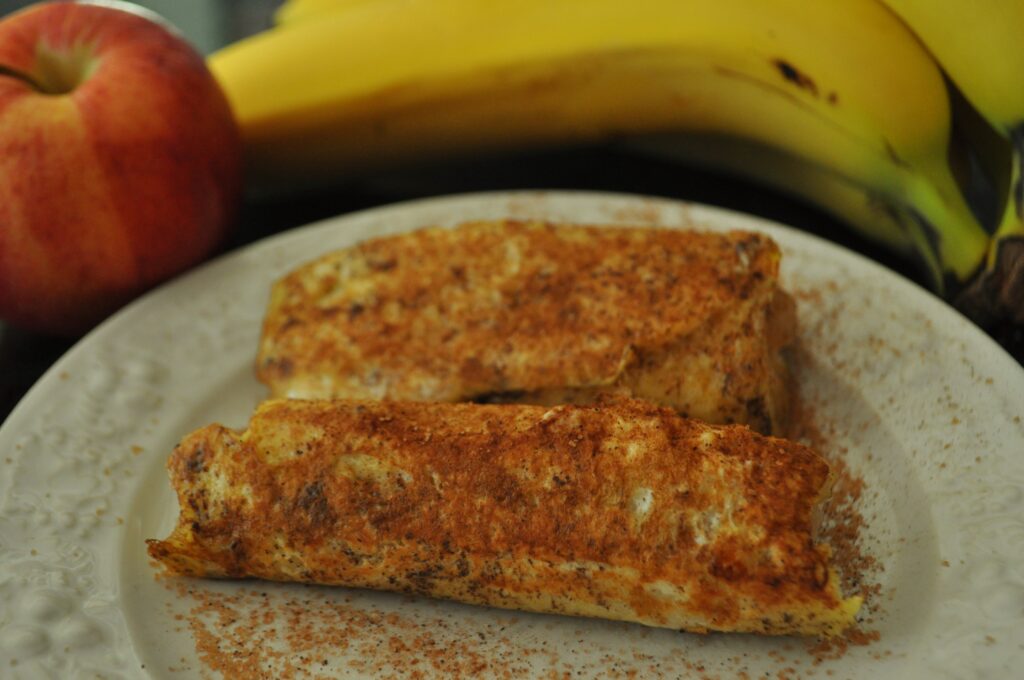 Spice up your breakfast with these easy Stuffed French Toast Roll Ups.
8 slices white sandwich bread
Peanut butter, jelly, cream cheese, strawberries, apple pie filling, blueberries, nutella….
2 eggs
3 tablespoons milk                                                                                                           
Caramel Pumpkin or Cinnamon Apple Spice Seasoning
Butter
Maple syrup
 In a bowl whisk the eggs and milk until well combined.
Trim the crust off the bread slice and flatten bread out with a rolling pin.
Place about a teaspoon or 2 of your chosen filling an inch from one end of the bread spread out in a strip. Roll the bread up and repeat until they're all filled. Do not overfill or they leak out the sides.
Over medium heat melt a tablespoon of butter in a skillet.
Place rolls into egg batter and coat on all sides, then place them in the pan, seam side down. Cook until golden brown, turning them so you brown all sides. Add butter to the pan as needed.
Sprinkle hot rolls in Sweet Strawberry, Cinnamon Apple Spice or Caramel Pumpkin Seasoning until completely covered. Serve with maple syrup.
Seasoned Cinnamon Apple Spice Butter.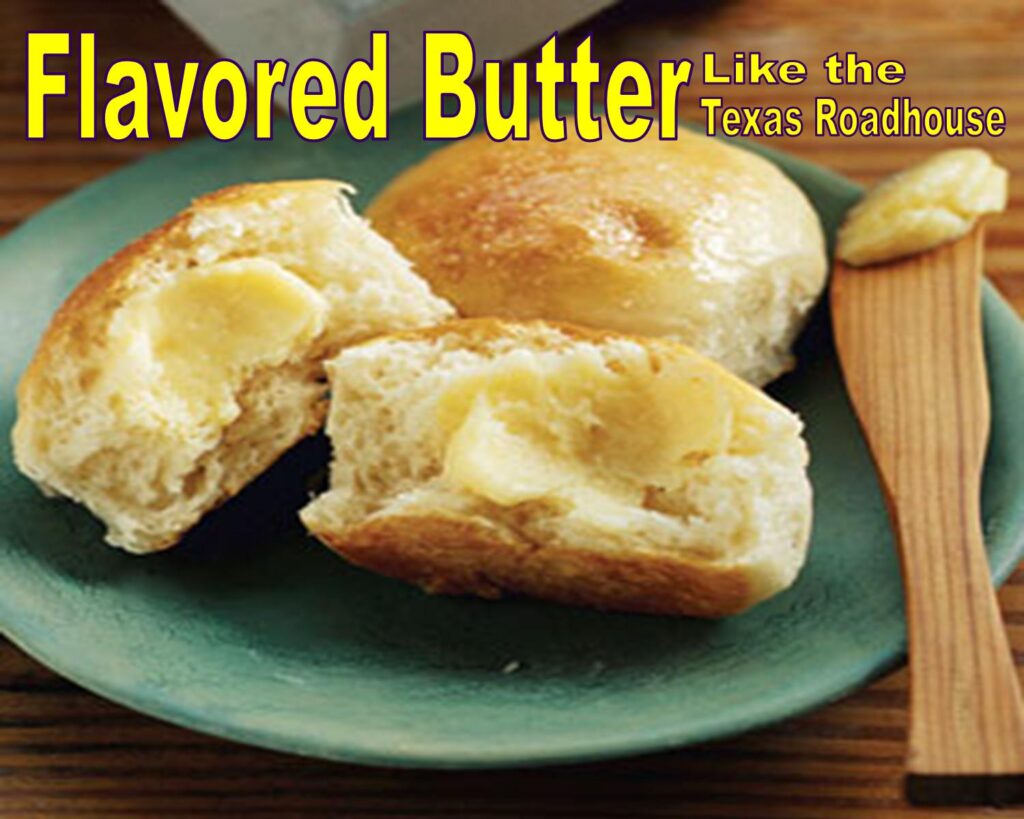 Make easy flavored Cinnamon Apple Spice butter. Tastes similar to the Texas Roadhouse butter.
Whip together 1 stick unsalted softened butter for 30 seconds. Add 1/4 cup powdered sugar, 1/4 cup honey, and 2-4 tsp. Cinnamon Apple Spice and beat until well combined and fluffy, about 1-2 minutes.
Serve on rolls while warm or store in an airtight container in the fridge.