Recipes by Courses with Starla's Seasonings
Recipes by Seasoning Flavor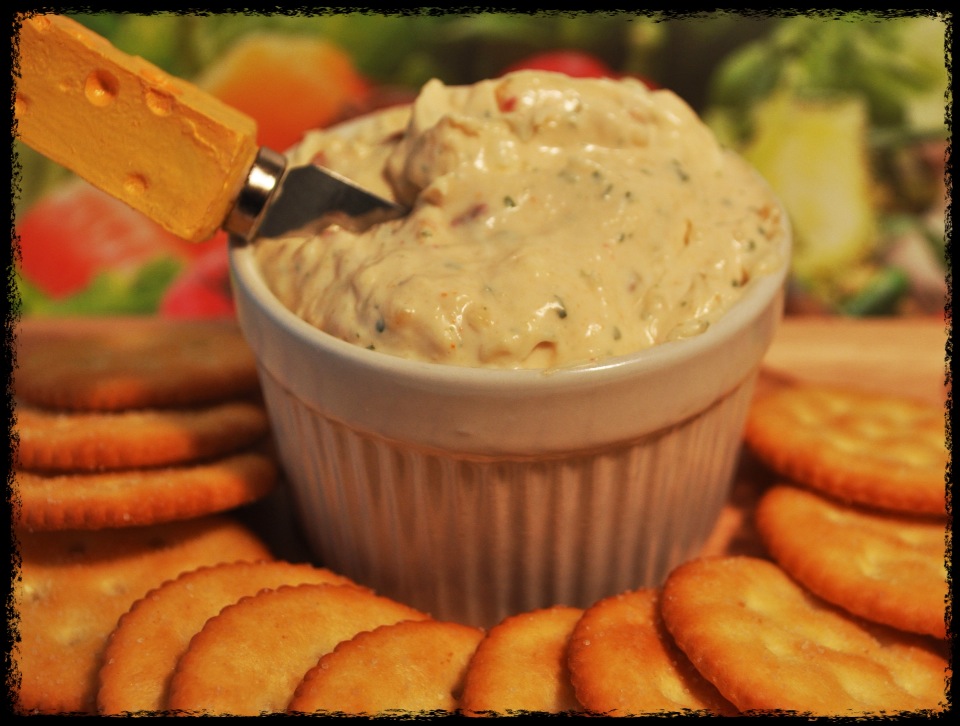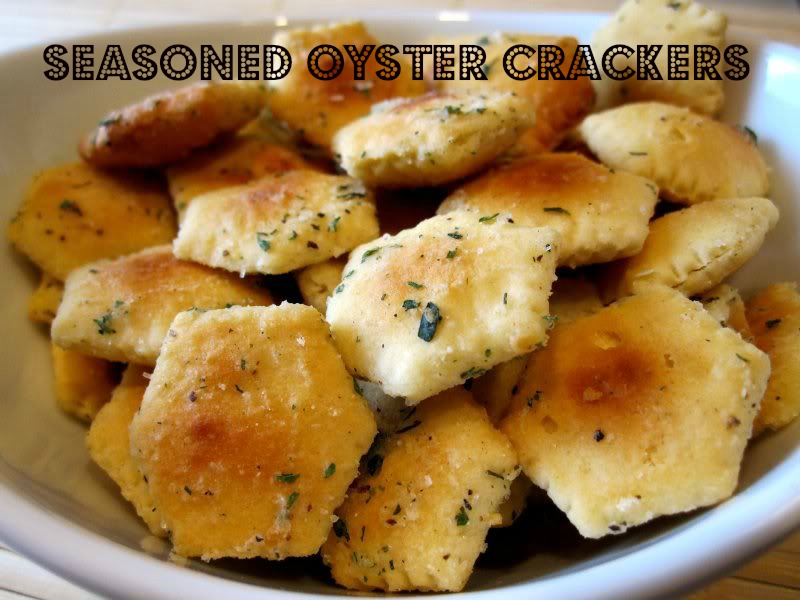 DIP MIX: 1 package Seasoning, 1 1/3 cup sour cream (or Buttermilk) 2/3 cup Mayonnaise (NOT Salad Dressing) Mix and Chill 2-4 hours or overnight.
GOURMET BURGERS: In a bowl, sprinkle Seasoning to taste over hamburger meat and mix well. Cover bowl and place in a refrigerator for at least two hours. Form into patties and cook.
WARM CHEESE DIP/FONDUE: Blend 1 package of Seasoning with 2 (8 ounce) packages cream cheese and 4+ Tbsp of milk to thin. Microwave for 45 seconds, stir, then heat an additional 30-60 seconds, or until hot.
SEASONING: Sprinkle on Hamburgers, Chicken, Roasts, Steaks, Popcorn, Pork Chops, Fish, French Fries, Eggs, Veggies, Potatoes, Soup, Pretzels, Nuts, Rice and Pasta.
GOURMET FLAVORING: Add to taste to your Cream Cheese, Mayo, Butter, Oils, Marinades, Breads and Cottage Cheese.
PAN FRIED FISH: Combine 1/2+/- package Seasoning, 1/2 cup flour, and optional 1/2 tsp. salt. Wet fish fillets with water and roll in seasoning mixture. Add 3+ Tbsp. of oil to skillet. Fry fillets on medium heat (approximately 4 minutes each side) or until fish flakes easily with a fork
Baked or Air Fried Salmon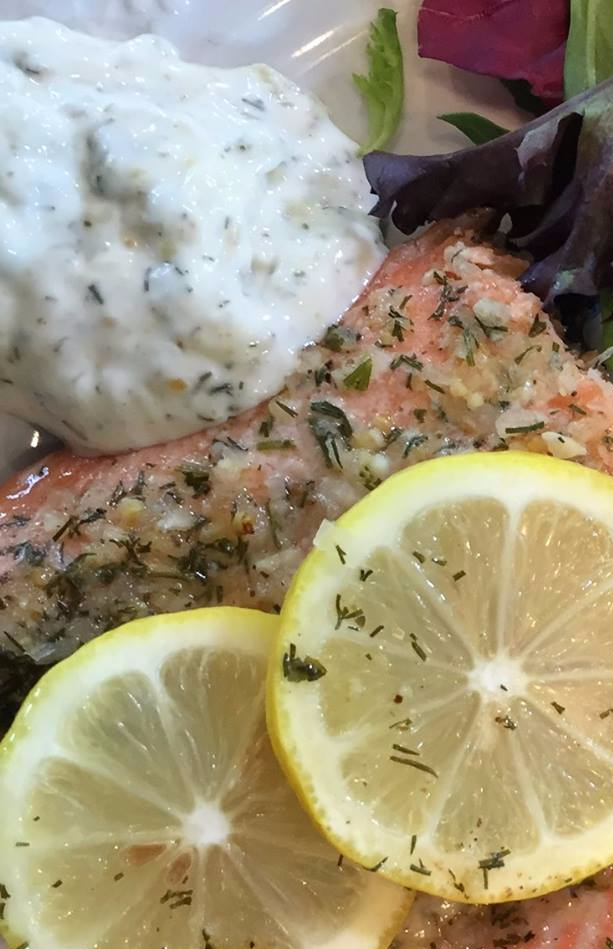 Baked or Air Fried Salmon
1 cup Mayo
3 Tbsp Starla's Seasoning Mix
Chopped fine 3 green onions or 1/4 white onion 
1-2 squeezes of lemon juice
3 shakes seasoning salt
Refrigerator 1 hour
Spread mixture on salmon or trout.
Bake 350 for 15-20 minutes.
Air Fryer set to 350 for 7-12 minutes or until salmon flakes easily with a fork.
*This excellent with Glorious Garlic, Greek Onion, Citrus Dill, Peppercorn Ranch, Mustard Horseradish or Grandma's Garden Seasoning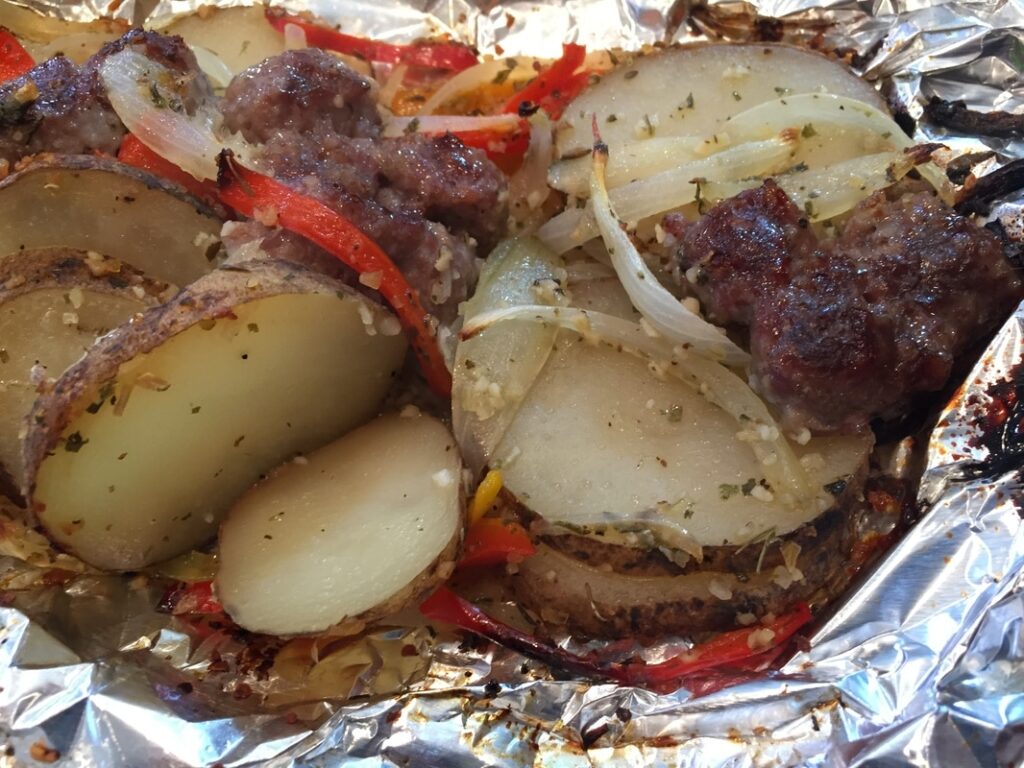 Meal In A Pouch:
Add sliced potatoes, peppers, onions, and sausage, drizzle with olive oil, sprinkle with Glorious Garlic , Citrus Dill or Peppercorn Ranch Seasoning Mix.
​Fold into a aluminum foil pouch and bake or grill until tender.
Star Wars Storm Trooper Cheeseball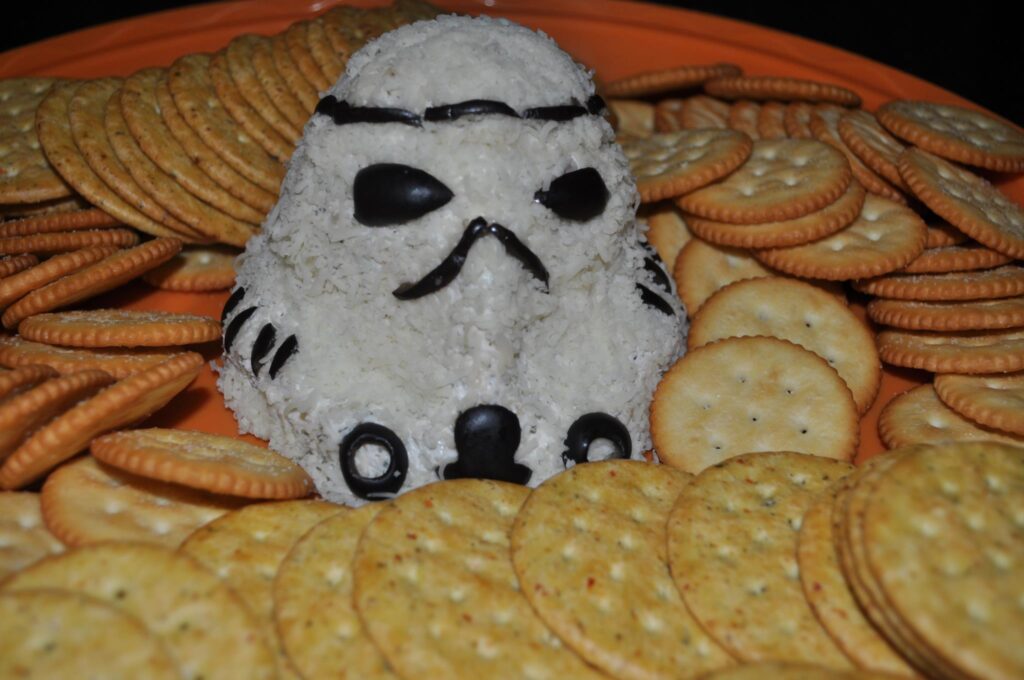 The Star Wars Storm Trooper Cheese ball I made for my brother's birthday party. It was easier than I thought it would be to do!
Directions: I mixed two 8 oz. bricks of cream cheese with one package of Starla's Seasoning Mix placed it in cling wrap so I could shape it without touching it. I finely grated some mozzarella, and covered the outside of the Trooper in the cheese. I sliced a few olives to accent the head, and I was done.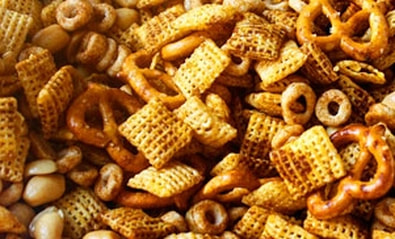 SEASONED CHEX MIX
1 stick of melted Butter
1 tablespoon Worcestershire sauce
1 package Starla's Seasoning
In a large bowl combine:
1 cup peanuts                                                           
1 cup pretzel                                
1 cup rye chips (like in Gardettos) 
3 cups Rice Chex                                                      
3 cups Wheat Chex              
3 cups Corn Chex
1 cup crumbled cooked Bacon
In small bowl, stir together melted butter, Worcestershire sauce, Seasoning Mix.
In large microwavable bowl, mix cereals, crackers, pretzels, and peanuts.
Pour over cereal mixture, stirring until evenly coated.
Microwave uncovered on High about 5 minutes, stirring every 2 minutes, until mixture begins to brown.
Spread on waxed paper or foil to cool. Store in airtight container.
Warm Cheesy Chicken or Crab Dip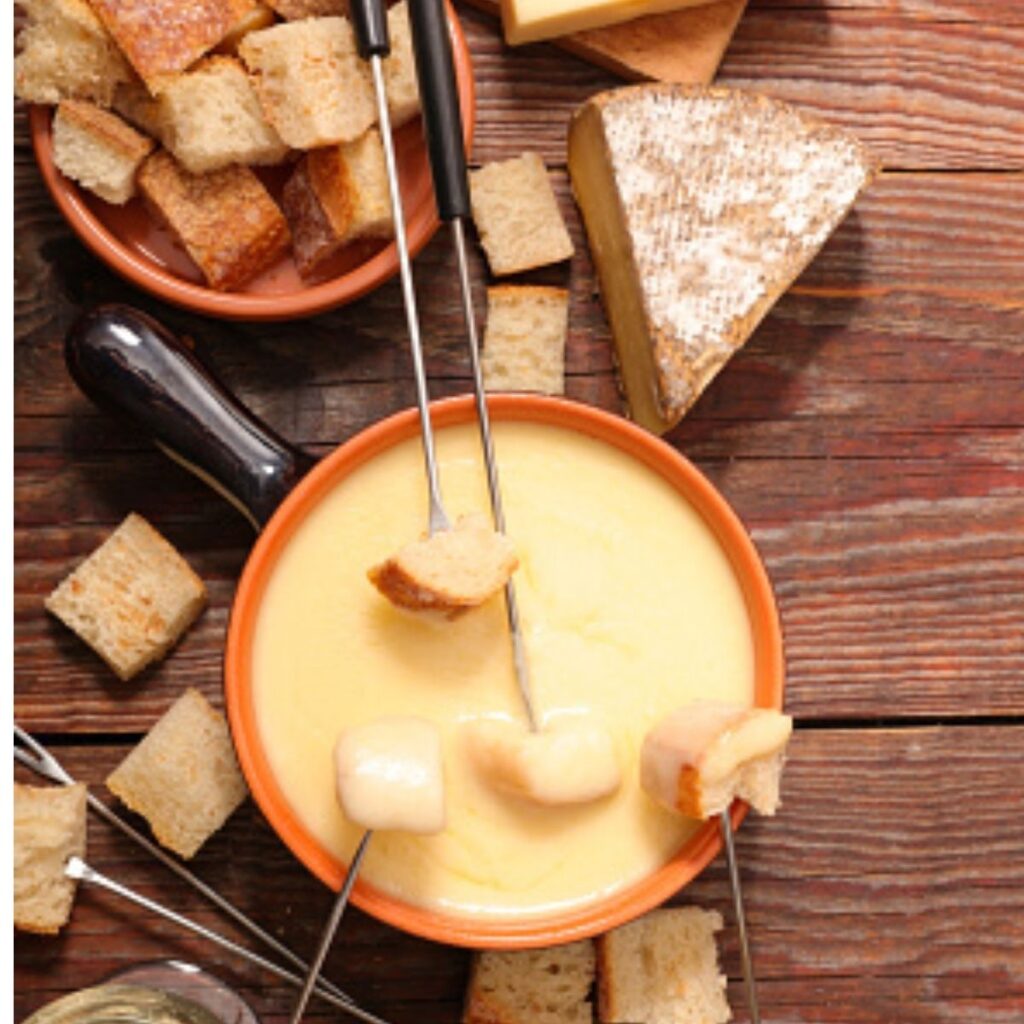 Ingredients:
16 oz (2 bricks) softened cream cheese
½ cup mayonnaise
1 package of BLT, Buffalo Wing Ranch Seasoning Mix or your favorite Starla's Seasoning or Dip Mix
1 cup shredded cheese
1 cup cooked shredded chicken, pheasant or turkey, lump crab-meat or one 6-ounce can crab-meat, drained, flaked, and cartilage removed.
1/2 cup cooked and crumbled Usinger's bacon
​
​Directions:
Mix together all the above ingredients until well combined. Heat until bubbly in your oven, microwave or slow cooker.
Enjoy with Starla's Garlic & Herb Beer Bread, chips, sliced baguettes, nachos or vegetables.
OVEN: Place mixture into an oven safe 16 oz baking dish and bake in a preheated 400 degree oven for 20 minutes or until warm and bubbly
MICROWAVE: Microwave until bubbly hot.
​
SLOW COOKER: This recipe is also easy to prepare in a slow cooker: add all ingredients to slow cooker and stir. Put on low for 2 hours. Keep on WARM, but watch and stir, so it does not overheat and dry out.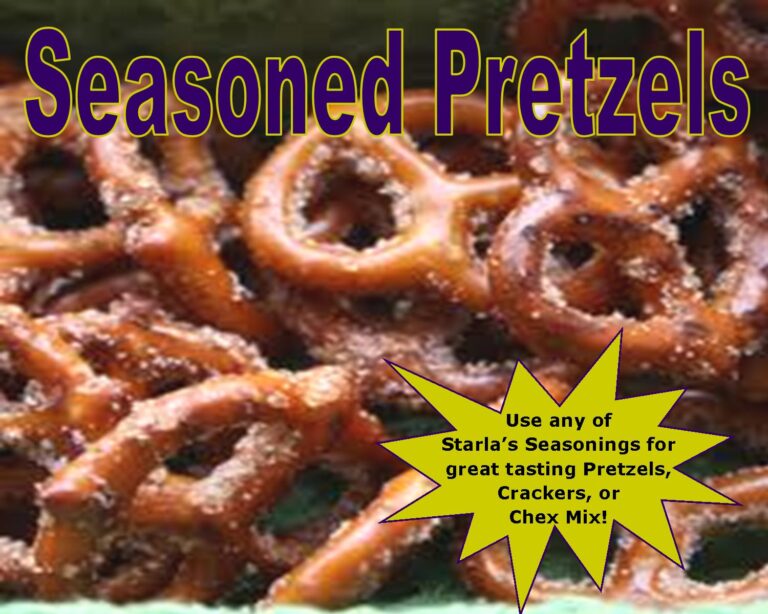 SEASONED PRETZELS: In a large Zipper bag mix 3/4 cup oil and 1 package Seasoning. Add 1 pound of pretzels and mix until pretzels are completely coated. Pour the pretzels onto 2 cookie sheets. Bake at 250° for 10-15 minutes or until golden brown, stir occasionally. Cool completely and store in an airtight container. 
Cream Cheese Crescent Roll Ups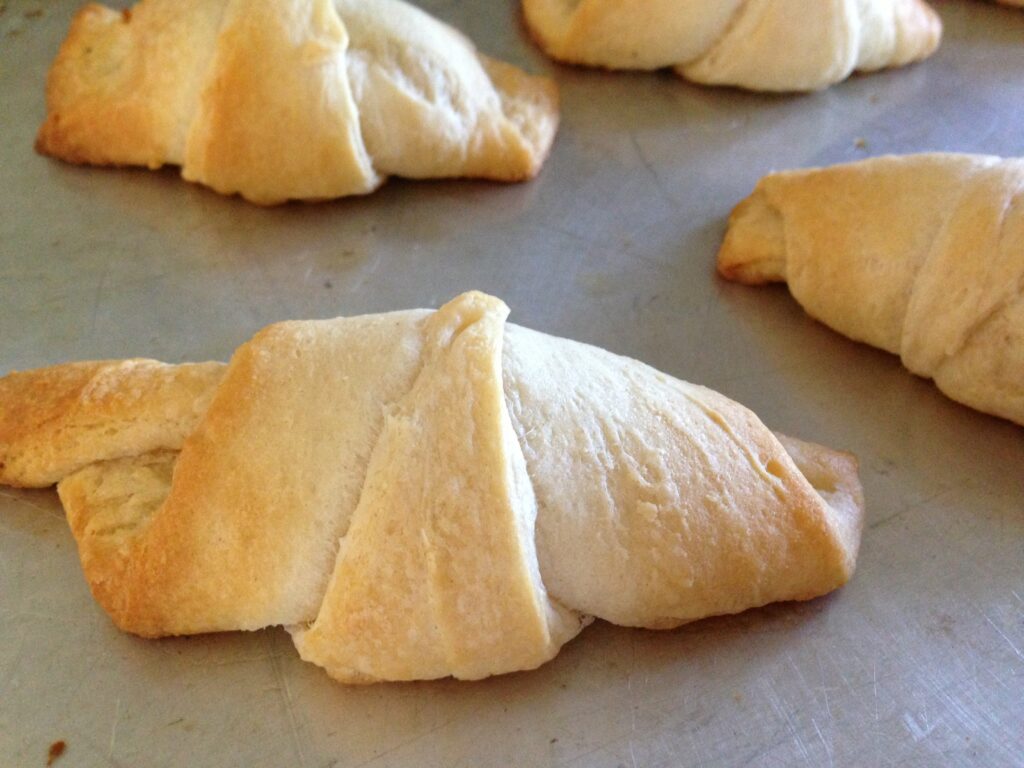 Cream Cheese  Crescent Roll Ups
1 (8 oz.) Cream Cheese softened
3 TSP Starla's Seasoning Mix -Sweet or Savory
3 slices Bacon, cooked, crumbled (optional)
2 cans (8 oz. each) refrigerated crescent dinner rolls
-Heat oven to 375ºF.
-Blend all ingredients together until well blended.
-Divide each can of dough into 8 triangles. Cut each triangle lengthwise in half. Spread each dough triangle with 1 generous tsp. cream cheese mixture. Roll up, starting at widest end of triangle; place, point-sides down, on baking sheet.
-Bake 12 to 15 min. or until golden brown. Serve warm.
​Smoked Salmon Dip or Spread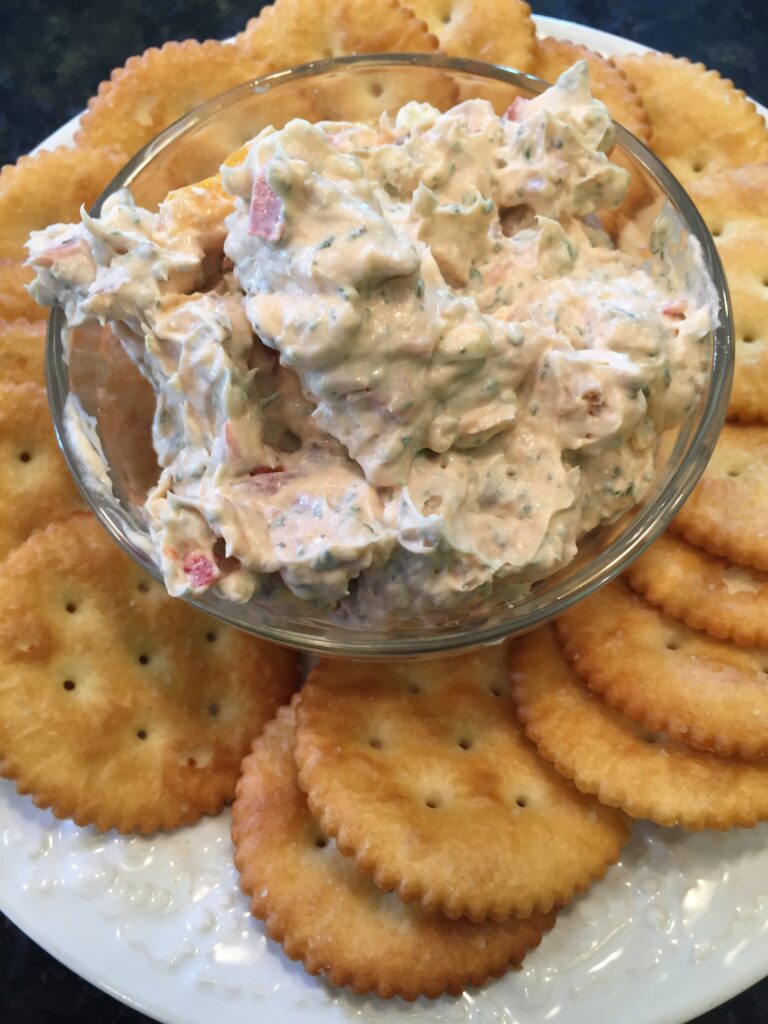 1/4 pound (4 ounces) smoked salmon, minced
8 ounces cream cheese, softened
1/2 cup sour cream
1 tablespoon freshly squeezed lemon juice  
3 tablespoons of your favorite Starla's Seasoning Mix
Salt and freshly ground black pepper

Cream the cream cheese with an electric mixer until smooth. Add the sour cream, lemon juice, Seasoning Mix, salt and pepper to taste. Add the smoked salmon and mix well. Chill and serve with crackers or as a sandwich spread.
Grandma's Cheesy Seasoned Chicken, Pheasant,Turkey or Pork Chops
1 packet of Starla's Seasoning Mix
1½-2 cups shredded cheese
4 chicken breasts
2 cups sour cream
Grease 9"x11" baking dish.
Place chicken into baking dish.
Mix Seasoning Mix into sour cream and add 1 cup of shredded cheese
Cover tops of meat with mixture then sprinkle with remain cheese.
Bake at 375° for 25 + minute or until internal temperature reaches 165 degrees.
Dan's Seasoned Quinoa with Vegetables
It is so easy to prepare quinoa with peppercorn ranch seasoning from Starla's seasonings, Dips & mixes along with mixed saute vegetables and chicken & apple sausages.
2 Cups water
1 cup Quinoa
3 teaspoons Peppercorn Ranch, Grandma's Garden or Glorious Garlic dip mix, Starla's Seasonings, Dips & Mixes
(Can add beef broth or chicken broth) if you like is optional
Place 1 cup Quinoa and 2 cups water in a pot, then add 3 teaspoons Peppercorn dip mix. Bring to a boil, reduce heat to simmer and cover for 15 minutes or until water has evaporated.
* side note if in a hurry and you need the water absorb, add 1/2 cup of instant rice, mix and cover wait 15 minutes and water that is left will be absorbed.
Vegetable mix
1 Medium Green pepper
1 Medium sweet onion
8 oz portobello mushrooms
Small bag Carrot strings
2 Tablespoons unsalted butter
Salt & pepper
In a separate skillet add two tablespoons of unsalted butter divided and melted. 1/2 medium green pepper large chop, 8 oz portobello mushrooms chopped, medium onion large chop, good handful of carrot strings saute until tender but not caramelized. Taste and lightly salt and pepper put aside.
Once quinoa is done combined with vegetables and mix. Makes a nice side dish. Will make 4 servings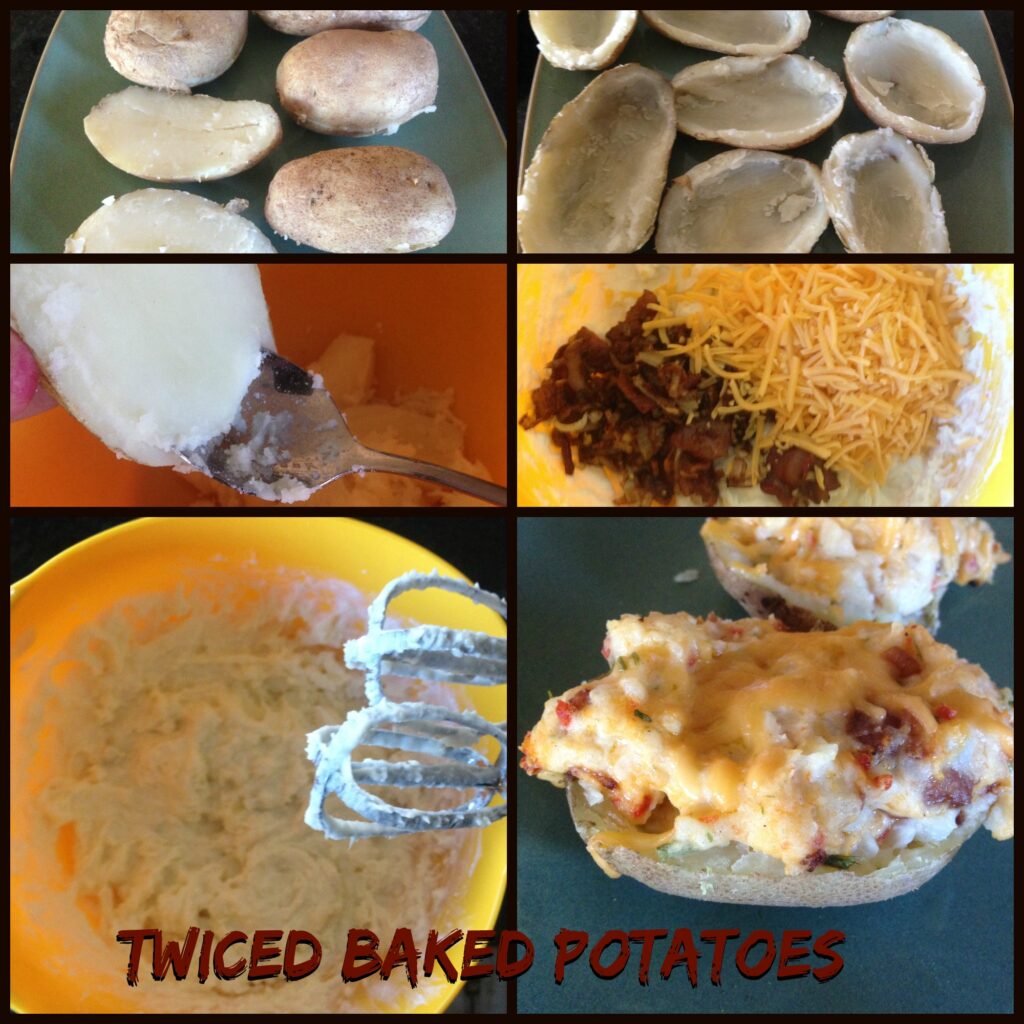 6 large baking potatoes
½ cup real bacon crumbles
1 cup sour cream
½ cup milk
⅓ cup butter
½ package Starla's Seasoning Mix
Salt & pepper to taste
1 cup shredded Cheddar cheese
8 green onions, sliced
Preheat grill to 350 degrees F. Place potatoes on grill and close lid. Grill for 1 hour or until a fork can easily slid into the potato. Remove from heat and let cool just until you can touch them comfortably. Cut them open lengthwise and remove the cooked potato flesh. Leave a ¼ inch of potato meat connected to the potato skin. In a mixing bowl, mix the potato flesh, sour cream, milk, Seasoning, butter, cheese, bacon crumbles and chopped green onions. Replace stuffing mixture into the potato skins. Grill with the lid closed for 15 – 30 minutes.