Glorious Garlic Seasoning Mix or Glorious Garlic Dip Mix
Mix with butter to make Garlic Bread. Add Glorious Garlic Seasoning Mix to ground beef or turkey to make tasty meatloaf or glorious garlic hamburgers. Sprinkle onto steaks, roasts, pork, fish, or vegetables to combat everyday blandness. 
All Natural, No MSG, No Cholesterol, No Trans Fat, No Sugar Added, No Salt Added, No Gluten, No Preservatives, Non-GMO
Glorious Garlic Sausage Alfredo Tortellini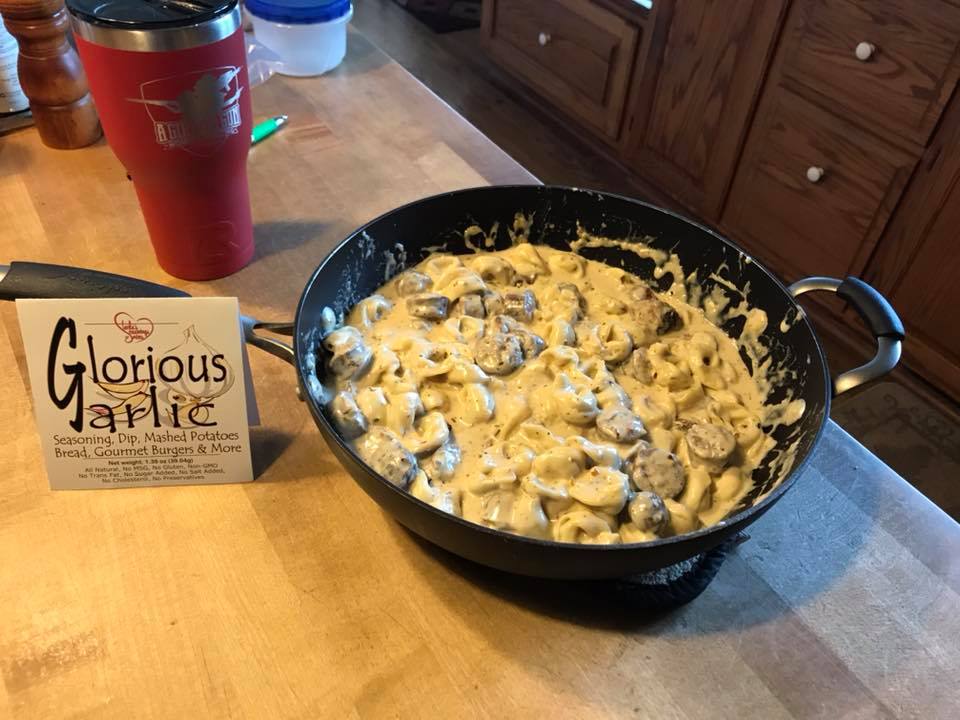 1 (9-ounce) package refrigerated three cheese tortellini
1 package brats
2 tbsp unsalted butter
3 cloves garlic, minced
1/4 teaspoon crushed red pepper flakes
2 tbsp all-purpose flour
1 cup milk
1/2 cup heavy whipping cream
2 ounces cream cheese, cubed
1/4 cup grated parmesan cheese
1/2 package of Glorious Garlic
INSTRUCTIONS
1. In large pot of boiling water, cook the tortellini according to package instructions, then drain and set aside.
2. In a large saucepan, cook the brats until cooked through. Remove from pan, slice and set aside.
3. Leave the juices from cooking the sausage in the pan, then add the butter and allow it to melt.
4. Add the garlic and red pepper flakes and cook, stirring regularly, for about 1 minute.
5. Add the flour and whisk until lightly browned, about one minute.
6. Add Glorious Garlic Seasoning.
7. Gradually add the milk and heavy whipping cream, whisking constantly, until slightly thickened, about 2-3 minutes.
8. Stir in the cheeses until melted. If you find the sauce is a little thick, you can always add a touch more milk.
9. Stir in the sausage and pasta and add salt and pepper to taste. Serve immediately
Warm Garlic Chicken Dip
2 cup +/- Shredded cooked chicken
8 oz. cream cheese
1 pack Glorious Garlic Seasoning Mix
½ +/- cup Ranch salad dressing
8 oz. shredded cheese.
Mix ingredients together and bake at 350 degrees for 30 minutes. Serve with tortilla chips.
Grandma's Mashed Potato Casserole
 

---

1/2 packet Glorious Garlic Seasoning Mix
8 cups prepared mashed potatoes
3 Tblsp. butter, softened
1 cup sour cream
2 cups shredded cheddar cheese
3 Tblsp. of Diced Onion (optional)

Preheat oven to 350°.
Grease bottom of 9×9-inch glass casserole dish.
Use 8 cups of real mashed potatoes.
Add Glorious Garlic Mix, butter, sour cream and 1-1/2 cups cheese, and onion.
Mix well.
Spread mixture into greased casserole dish.
Sprinkle remaining cheese over top and bake until bubbly and brown for approximately 20 minutes.
Chipotle BBQ Sauce
Garlicky Burgers
In a bowl, sprinkle 

Glorious Garlic Mix 

to taste over ground venison or hamburger and mix well. 

Cover bowl and place in a refrigerator for at least two hours. 

Form into patties and cook.

(Optional: Flatten two patties, cheese in middle and seal sides)  
Garlic Butter
Add Glorious Garlic Seasoning into your butter for a terrific flavor on your vegetables, bread, or pasta.
Sampling of Recipes that are on the back of Glorious Garlic Seasoning packages:
Pull-Apart Garlic Sourdough Bread
---
Glorious Garlic Vegetable Dip or Chip Dip
---
Glorious Garlic Smoked Salmon Dip
Easy Cheese Ball
---
Mary Jo's Seasoned Cheese Curds
---
Glorious Garlic Beer Dip 
(video below)
---
BACON WRAPPED & STUFFED MUSHROOMS
Twice Baked Potatoes
---
Home-made Garlic BBQ Sauce
Chili Garlic Mashed Potatoes
Venison Roll Ups
---
Cheesy Bacon Garlic Chicken Pasta
---
Glorious Garlic Moose Roast
---
Honey Garlic Chicken
---
Garlic Bluegills with White Wine and Butter
---
Garlic Alfredo Sauce
Cheesy Bacon Breakfast Bread
---
Glorious Garlic Olive Oil
---
Deviled Garlic Eggs
---
Pan Fried Seasoned Fish
---
Easy Garlic Bread
---
Glorious Garlic Seasoned Pretzels
---
Glorious Garlic Scalloped Potatoes & Ham
---
Star Wars Cheese Ball
---
Chicken Cheese Ball
---
Druken Pheasant
---
Loaded Hasselback Baked Potatoes
---
Grandma's Chicken and Rice
Jody's Tortilla Roll Ups
Salad Dressing
Glorious Garlic Cottage Cheese